Thomas "Tom" Thomson was a largely self taught artist, and his work bears some resemblance to that of various European post-impressionists such as Paul Cezanne and Vincent Van Gogh.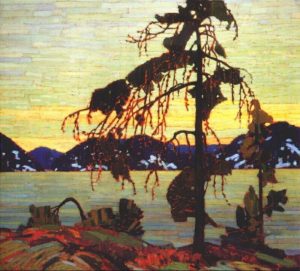 Born in Claremont, Ontario in 1877, he started painting around the age of 12.
Critics state that Thomson's control of colour and palette was "exceptional"  as he often mixed different, available pigments to create vibrant, and indeed unusual, colours.
Most people agree that his work is instantly recognizable due to this distinctive palette and brushwork no matter what the subject of his work, even though there are now said to be numerous forgeries in the art market as his work has increased in value.
Thomson is widely regarded as one of the most influential Canadian artists of the early 20th century.
In fact he, and indeed his work, directly influenced the highly regarded group of Canadian painters known as the Group of Seven, Thomson is often credited as being part of the group, however this is incorrect as he died before they formed formally.
During his early life he traveled the Ontario wilderness, which was a major source of inspiration for his works.
Thomson honed his drawing and draftsmanship when he was employed as a graphic designer with Grip LTD in Toronto, where in fact several members of the future members of the Group of Seven also worked.
His first exhibition was with the Ontario Society of artists in 1913, and continued to exhibit with them until his untimely death on Canoe Lake in Algonquin Park, which to this day is still shrouded in mystery.
The National Gallery of Canada started acquiring his work, which was a major turning point in his art career.
Like most artists of the modern period, his work has grown in value and popularity since his mysterious death.
In 2002 the National Gallery of Canada opened a major exhibition of his work, giving him a similar level of prominence that they afforded to more widely known and popular artists such as Picasso, Renoir and indeed the Group of Seven in previous years.
Some of his most famous works include, The Jack Pine, The West Wind, April in Algonquin Park and The Northern River.