Melanie Authier was born in 1980 in Montreal, Canada and now lives and works out of Ottawa.
Her painting fuses abstract and representation, and she is fast becoming a rising star in the Canadian, and indeed global, art-world.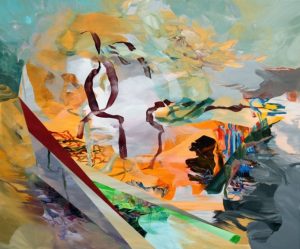 She is predominantly known for deep illusions in her lavish, complex works and has a very sophisticated palette. She is a painter that clearly loves her paint!
Some of her works have been described by art critics as having a landscape quality that consist of many different yet connected parts, some of which almost have a scientific feel to them.
Authier's paintings morph and layer various shapes lines and textures creating a deep visual space, revealing new insights and pleasures upon sustained viewing.
After receiving her BFA from Concordia University and her MFA from the University of Guelph, her work came to wider mainstream attention in 2007, when she had an honourable mention in the RBC Canadian Painting Competition.
Since this Authier's paintings have been exhibited in various venues nationally, including Modern Fuel, the Ontario College of Art and Design, the Winnipeg Art Gallery and the Carleton University Art Gallery.
In 2015 she said of her work;
"I believe my work references and, at times, wrestles with the after-burn of painting's past, art history with a capital "A." It also works to carve out a space for itself in current dialogues and continues to look ahead at painting's potential. So my preoccupying question is, "Where do we go from here?"
What art lovers everywhere can learn from these words, and indeed her work, is that paintings are not just discrete objects that are easy on the eye.
Authier describes her approach to her paintings as almost "setting up a problem" within them so that she can "produce a response to it that is unexpected" as she plays around with various painting styles, as an artist her paintings clearly indicate her ability to not only handle colour, shape and form or even gesture, her works elicit highly emotional responses from those that view them.